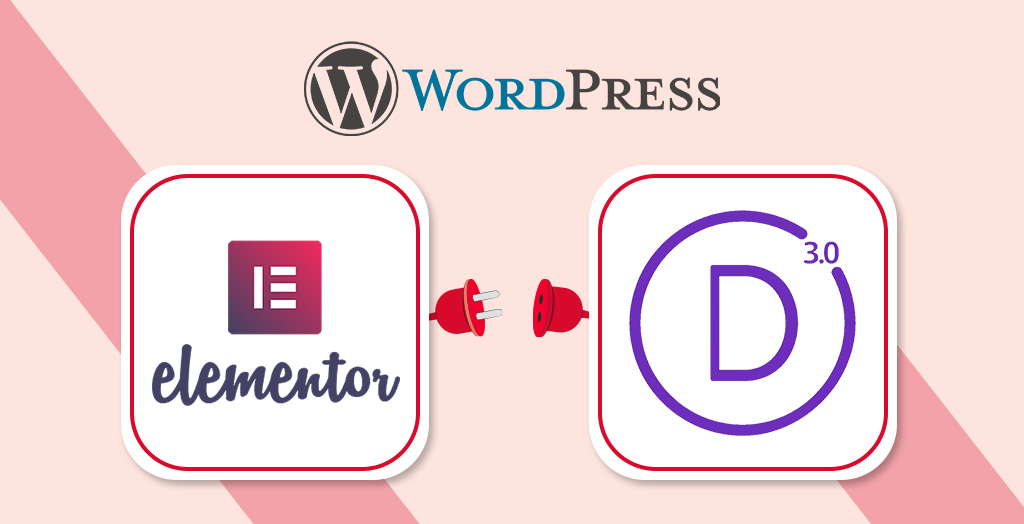 In today's world, anyone can build their own websites using platforms like- WordPress or Blogger. These Content Management Systems have a user-friendly interface that allows users to create custom designs on their website. Even then, creating a website on WordPress can be tough and time consuming for beginners. Thus, this blog is going to throw light on what plugins to install for making the process of theming a little easier. Plugins are extensions in the form of codes that can be installed in your WordPress to add an extra functionality. Two of the most popular website builders are Divi and Elementor.
Both of them are excellent plugins that use visual drag and drop methods to design the website. Both the plugins have their own pros and cons and the choice between them totally depends on the type of website the user is building. Let's dig down to measure these plugins on some of the prominent parameters-
Divi vs Elementor: How to choose?
1) Drag n Drop Interface :
Interface is one of the most important things one has to watch for while buying a design plugin. Whilst both of the mentioned plugins have the same drag and drop feature for designing your WordPress website but both of them possess different types of interfaces. In Divi, to design and customize modules, floating buttons appear when you click over your design: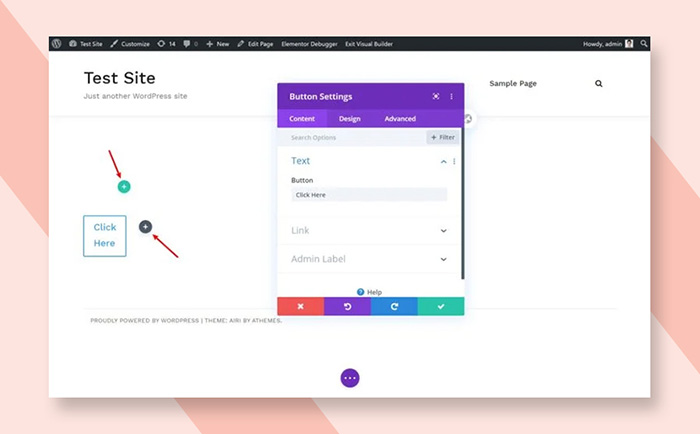 Whereas, in Elementor all the customizing options are available in the sidebar: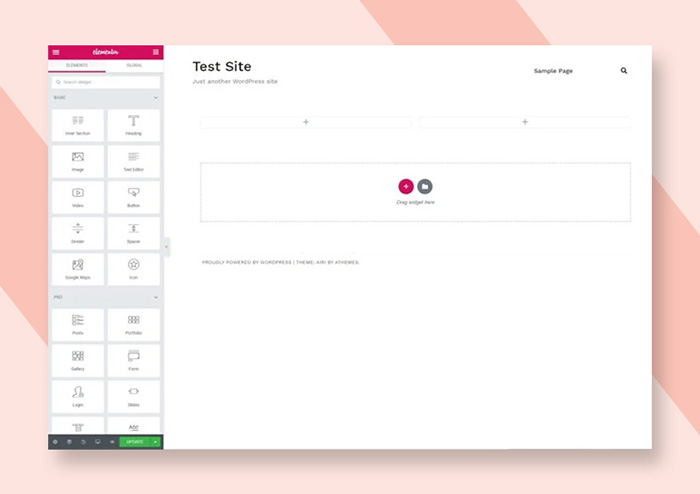 2) Additional Design Features:
Both Divi and Elementor have amazing features and options to design your WordPress website. What sets both of them apart from regular designing interface of WordPress are the following points:
1.Shape Dividing feature
2.Custom spacing feature
3.Custom module positioner
4.Animation effects
Elementor also has an inbuilt popup builder which sets it apart from Divi.
3) A/B Testing :
The process of comparing a variant design or module from original or rather previously edited design or module like- buttons or headers is called A/B testing. This function is only to be found in Divi. This makes it easier for users to select properly for better audience engagement. Moreover, third-party plugins such as split tester can be integrated to Divi for an additional combo functionality.
4) Template Builder:
Both of them are excellent plugins to build individual templates for particular web pages in your WordPress website. Parts of webpage that can be modified are-
A. Header
B. Footer
C. Single posts and pages (for example, an individual blog post)
D. Archive pages (for example, the page that lists all of your blog posts)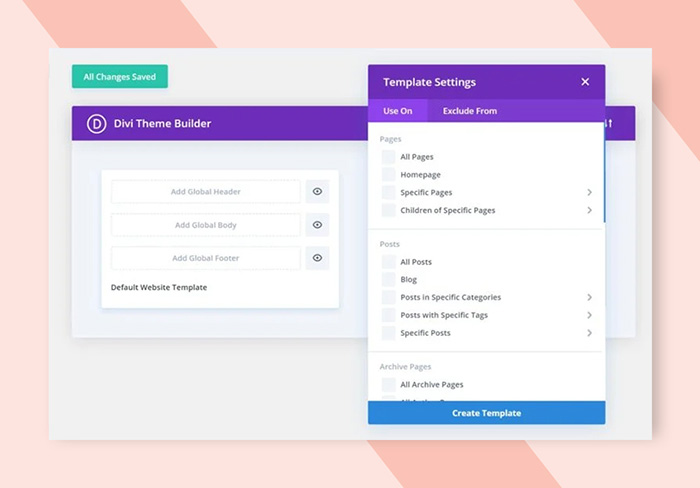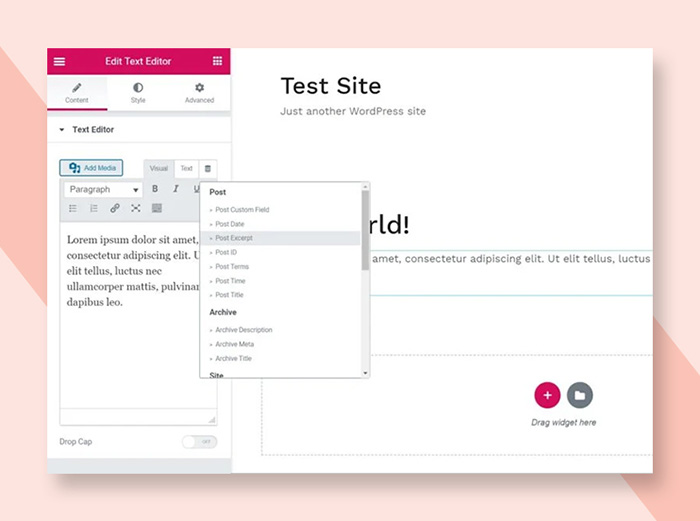 What sets elementor apart from Elementor is its singular interface and variety of options in adding customizable widgets whereas, Divi's interface of theme builder has two interfaces namely front-end and back-end. Both of the plugins have options of selecting what pages or posts should the theme be applied to.
5) Layout Packs:
Layout packs are an additional feature of Divi. In this feature, multiple themes are bunched together for laying out a specific type of webpage. For example- restaurant or a gym. A basic layout pack of Divi includes separate themes for- home page, contact page, about page, and so on. Whereas, in Elementor the same thing is called site kits which are very limited. There are about 150 layout packs in Divi and 1100+ themes in Divi.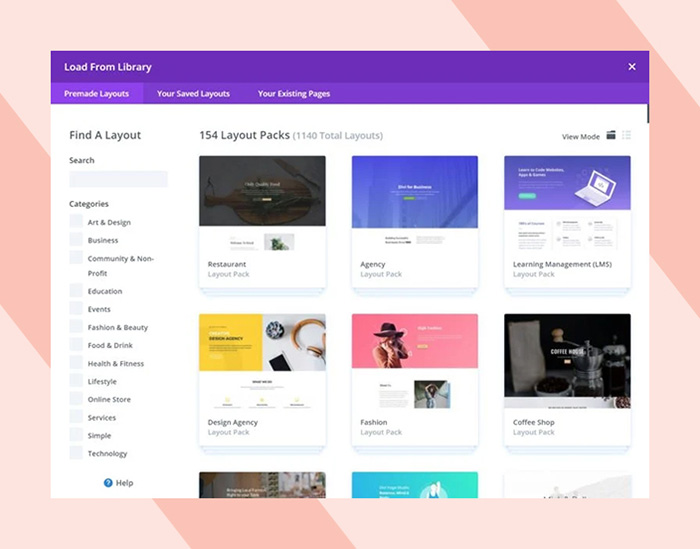 6) Pricing:
Elementor can be bought from their site and it has three options:
Personal – $49 for one site
Plus – $99 for three sites
Expert – $199 for 1,000 sites (essentially unlimited, approximated at 1,000 )
Divi can be used on unlimited sites and it has two enticing options :
Yearly Access – $89 with one year of support and updates.
Lifetime Access – $249 with lifetime support and updates.
7) Marketplace:
Both of the plugins have the feature of adding new functionalities to their plugins by purchasing from the Marketplace option available. Moreover, since Elementor has a free version inbuilt in WordPress, the main focus of developers has shifted towards creating more extensions for Elementor rather than Divi. Thus, third-party integration-wise Elementor wins over Divi.
Well at last, Elementor or Divi?
This totally depends on the type of website that you want to create. Both of them have their own pros and cons as you can see. If your priority is creating a personal website then I would suggest you to go for Elementor, or if you want your website to have pop ups then go for Elementor. But if your priority is to have more layout packs then I would suggest you to go for Divi. In the end, everything depends on the creator. Both of these plugins can possibly create almost similar looking websites.
After checking these points, you may have decided, however, if, still having a second thought, then connect with our specialists. With years of experience with WordPress Plugin Development on the most recent market drifts, our specialists won't just assist you with picking the best for your website dependent on your business objectives yet additionally make custom WordPress Theme Development that stands apart among the group.
Last updated on 10/09/2021 by pen-pushers at QeWebby