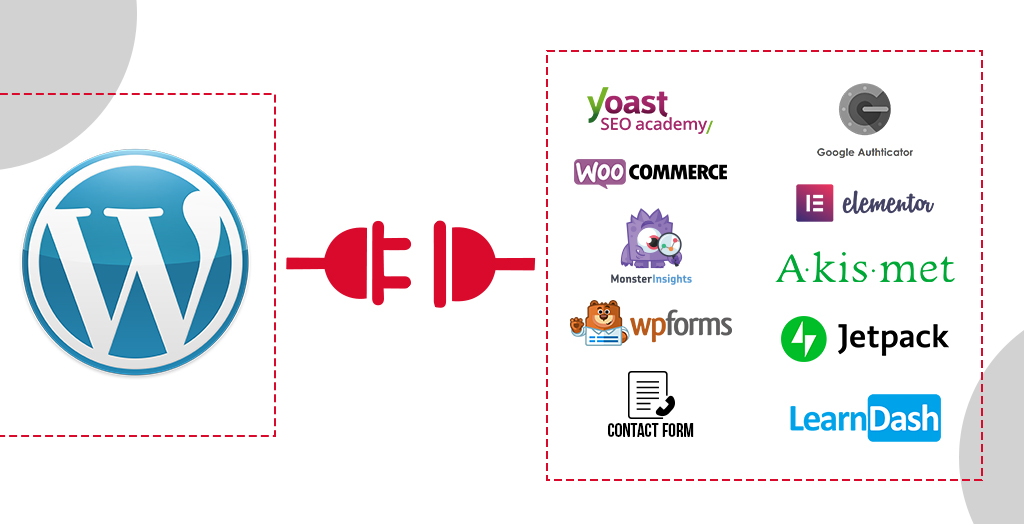 What is a plugin? Well, plugins are just a bunch of codes that act as extensions to your WordPress. These extensions add new functionality to your current WordPress software or rather interface. As of August 2021, there are over 58,886 plugins available in WordPress Eco System to choose from.
And the reason they exist is because basic features available in WordPress can never cover all the aspects of different kinds of businesses. For example- an IT firm might require a website for a whole different reason than a blogger. Thus, there is an extreme need of adding extra functionalities or rather plugins to your WordPresss site. Here are the ten most basic plugins that one should have before creating a website-
Yoast SEO is without a doubt, one of the most basic plugins that one should install. The main purpose of this plugin is to improve the Search Engine Optimization of a given website. It helps you to make your content more feasible to the public as it uses spooky words that are currently in trend instead of basic normal stuff. It actually suggests alternatives for words and phrases so that when people search any article related to your post, they might actually see your website's article first in the queue or the index. Hence, the overall traffic of your website increases significantly.
This specific plugin is used by people who want to create a website for e-commercing. As we all know all e-commerce websites have a common touch to their themes and features. Since WordPress is built in such a way that everyone can use it, this plugin is specifically built to add those specific touches to your e-commerce website such as themes, modular product blogs, etc.
Add payment options
Not only cards, mobile wallets, bank transfers, but they also accept 100+ payment gateways – including Stripe, PayPal, and Square.
Customize shipping options
Connect with well-known carriers such as UPS, FedEx, and ShipStation – plus a wide variety of delivery, inventory, and fulfillment solutions for your locale.
Simplify sales tax
Add WooCommerce Tax or similar integrated services to make automated calculations a reality.
Aren't you curious to know what kind of people go through your website? This particular plugin is meant for people who would actually gain a profit knowing their traffic. This tool uses GoogleAnalytics to give insights on the traffic of your website. This plugin makes data-driven decisions easier. One could easily double his website audience if one knew the stats of one's website. Hence, this plugin is for someone who wants to monetize his/her content.
This particular plugin as the name suggests is used to create contact forms easily and in a standardized manner. We all know how a website requires you to provide a contact to connect better so it's not a surprise to see this plugin high on the list. Contact Form 7 was developed by Takayuki Miyoshi that can handle multiple contact forms on the same site; the plugin also integrates Akismet spam filtering and lets you customize the styling and fields that you want to use in the form.
It is natural for an interactive website to have feedback and iterations. Since today's world works on agile platforms, it is normal for websites to have forms and feedback. This is when this plugin comes into the picture. WPForms helps you to create an enticing contact form using a simple drag-and-drop interface. Customize your forms using this plugin and get to know your audience even better. Forms can be used for a variety of purposes such as getting registered, reviews, summary, etc.
Have you ever felt the need to protect your account webpage securely? This particular plugin helps in adding a "two-factor authentication" to your website. If there is a possibility of malicious actors getting their hands on either your, or your users', account credentials, this is a concrete way to avoid that. The two-factor authentication feature can be turned on, on a per-user basis. You can exclusively enable it for your administrator account, and log in as usual with less privileged accounts simultaneously.
If your website involves blogs, discussions, comments, this is the plugin for you. This plugin keeps spam away from your interactive content. It uses a global database to determine whether the added content is spam or not. It allows you to remove spam comments from the comment section. Thus, if you want to keep your content away from malicious shenanigans then this is the tool for you.
Jetpack has partnered with Google AMP to create the best, highest-performance all-in-one toolkit for WordPress. The reason why people use this plugin is because it automatically backs up your data in a modularized manner to take a grasp over your content. It also helps in creating contact forms and sitemaps easily. Moreover, it also helps with integrations of other plugins to convert them into one. Usually, Jetpack is used for the security of your web page since it makes it easier to remove spam and protect your website from brute force attacks 24×7. Last but not least it also shows analytics like queries and page views to get a grasp of your traffic.
As you might know, online courses and LMS(learning management system) are in trend right now. This plugin helps you to design an LMS platform on your website easily. It follows a global way of perception of courses and has the most feasible pattern of objectification. By using this plugin one can easily monetize and modularize subjects and courses and hence increase the flow of their website. One can easily connect LearnDash to other plugins that are available in a bigger and better LearnDash ecosystem.
There can also be situations when a website creator doesn't find WordPress design features up to date. This is where this plugin comes into picture. This plugin has objectified all theming options into one basic palette. This makes it easier to customize templates. Elementor has become one of the most popular plugins as it gives your website a more trendy look.
All your needs will most likely be fulfilled by available plugins, however if you have the need to further Customize WordPress Plugin Development for your own purposes or look forward to some custom code to achieve some odd requirement of your business, we at QeWebby are here to help you achieve the same. Our experts have a lot of experience using the plugins that are free, paid and are well aware of the challenges that you might face by using a particular plugin.
Last updated on 27/09/2021 by pen-pushers at QeWebby