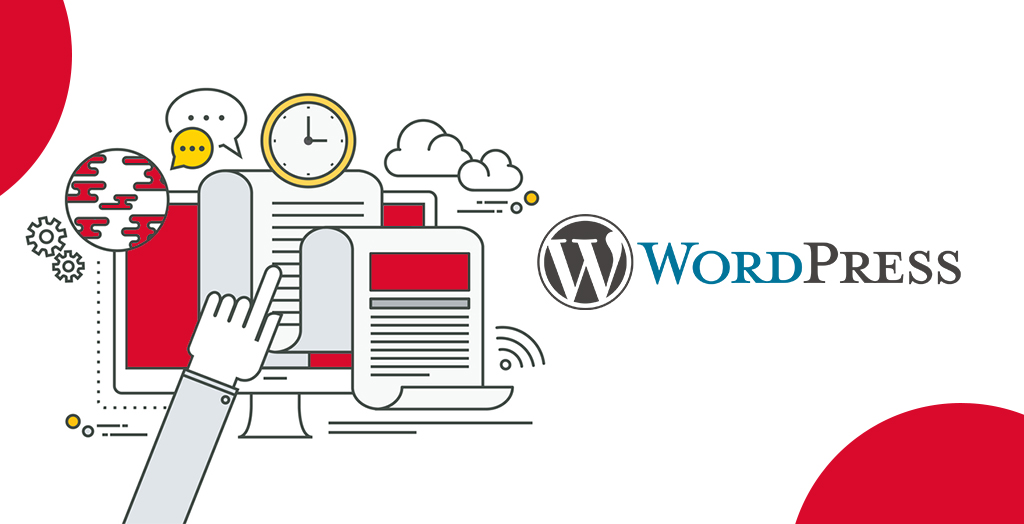 Did you know simple information sharing can improve your business growth by almost 50%, and blogs are one the best ways to increase your business growth exponentially?
As you all might very well know what blogs are and what they can do for you. There are a lot of platforms like- Tumblr, Blogger, WordPress, etc. from where one can create a blog easily with drag and drop. Out of all of them WordPress is without a doubt the best platform.
WordPress is one of the most popular Content Management System (CMS) software and is the sole choice for creating a website for a whopping 63.1% of total websites on the world wide web. Some of the popular organizations that use WordPress are eBay, IBM, Sony, Forbes, The New York Times, CNN, Samsung, TechCrunch, etc.
WordPress not only helps you in creating a website but is exceptionally customizable. One of the best things about WordPress is its exceptional adaptability to new add-ons and plugins meaning one can add his/her own personalized features to the website fluently.
Here are few advantages of using WordPress as your CMS –
1) Open-Source
WordPress is an open-source software that allows the developers to use, share or modify the code as they wish. Unlike some proprietary CMS, WordPress rather offers you the flexibility to use or customize as per your business needs and budget.
2) Self Hosted and Scalable
WordPress is a user-friendly platform that allows you to control each and every aspect related to your website such as web hosting, user interface, database, add-ons, etc. (Basically You Would Be The One Controlling Everything). Since it is self-hosted you can choose from a variety of web hosts like Bluehost, SiteGround, HostGator, etc, according to your feasibility.
3) Huge Community
WordPress is also known to have a huge interactive community. The community, in order to improve your WordPress aptitude, provides you assistance by providing study materials, webinars, online tutorial videos, and courses, etc. You can also ask questions concerning your project on a number of online mediums, including Quora.
4) SEO Friendly
Search Engine Optimization decides the rank of your website and simultaneously the uniqueness of your business. WordPress uses implicit SEO tools to handle the optimization of your website. SEO concepts make you change words and phrases in your content to make it more engaging and in line with trends. SEO Strategies including Keywords, titles, meta descriptions are not only essential ways to get your brand's name out there for all to see, but they are also effective tools that can reach specific consumers. This would help your website to be more engaging and popular towards a larger interested audience.
5) Easily Manageable
When a website is created, there are a lot of factors that one has to deal with. For example its security, data backup, SEO, presentation, etc. With WordPress, there is no need to check these factors separately. WordPress is structured in such a way that each and every tiny thing that one has to look after such as these factors have been integrated on a single platform. This allows users to easily manage their website in their own accordance.
6) User Interface and User Experience (UI/UX) Friendly
WordPress is known for the way it has been structured. WordPress offers nearly 50,000 plugins and around 3,500 themes, including both free and paid ones. The themes make the display of your work easier on the eyes and mind. All you need to do is simply change the theme for the new look of your website.
7) Marketplace
WordPress also has a marketplace from where you can buy new extensions and plugins to make your work a little easier. Popular WordPress Plugins, namely- Yoast SEO, Image Cropper, Collage Maker, Lastweets, etc, helps you to add new functions to your website. For a better display, you can also buy customized themes for your website on the marketplace. Hence, the marketplace is a great place to add more features to your website.
Why Blogging?
A chief reason why every company needs a blog is to increase its visibility. Put simply, the more blog content you create, the more content will show up in search engines and drive organic traffic to your website. Blogs are one of the best platforms to strengthen your SEO strategy. Moreover, each new blog you post adds a brand new page to your website. This helps with Search Engine Optimization as it gives Google and other search engines a reason to re-crawl your website in search of new content.
Promoting your services and company is not an easy task, especially in a highly competitive scenario. That's when the blog comes in handy. It helps you with the public representation of your company, keeps the audience and potential clients interested, and hence promotes your company. Thus a blog can attract new clients as well as it can help you advertise and provide business growth.
Moreover, blogs can help you appear more trustworthy to your potential clients. Customers trust what they can read, so blogs come in handy when it comes to boosting your business' credibility. Make sure you are posting helpful and trending content with interactive discussions, perspective sharing, etc. so that people can truly get a sense of who you are as an organization or venture. Whatever your products or services are, a blog post is a great tool for creating a stream of growing audience, website traffic, and new prospects. Build your brand with posts shared on social media to reach a wider audience and gain notoriety. You'll start to see just how much traction a blog can bring when it's shared with the world online.
Are you still confused about whether to make a blog or not? Or are you interested but need help to create a new one? Please reach us for the best WordPress Development Services. We make blogging and websites easier.
Last updated on 10/09/2021 by pen-pushers at QeWebby